In 1962 radio played a big part in everyone's life. While television was garnering a big audience share and sales of TV sets were booming, radio remained an important tool of communication. Televisions were costly and large, even the portable.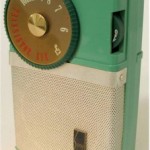 Radios were less expensive and ranged in size from the shirt pockettransistor radio to the modern table top model. Even the old style floor console that was popular in the 1940's remained. In the early '60's it wouldn't be unusual to find each radio model in the same home. After all, the floor console model still operated even if it was playing that raucous rock 'n roll.
In Jacksonville during that time the airwaves were dominated by two main players: WAPE 690AM and WPDQ 600AM. While WAPE went on to become the Voice of the South in the late sixties and early seventies with a twenty-four signal that reached from South Carolina to Miami, Melanie and Stephanie had to listen to their favorite tunes during the day because the Big Ape signed off at sunset in 1962.
Though the APE's air time was short, it's playlist was big. WAPE played rock 'n roll all the time, unlike it's main competitor WPDQ, which mixed rock with easy listening and cross-over appropriate country-western tunes.
In 1962, I didn't have my own radio. Even the shirt pocket radio cost about $20, equivalent today to $140. It wasn't until the late '60's that Japanese imports flooded the market and prices were dramatically reduced.  My parents tuned in WPDQ at home and in the car.  In fact, we lived in the shadow of WPDQ's broadcast towers that were once located on Normandy Boulevard. Needless, to say reception was always good.
690 AM's call letters were a radio marketers dream. Who could fail to be creative with WAPE? The station signed on and off every day with a quick rendition of the Star Spangled Banner followed by a bull ape yell. The image of the Ape was used in all marketing materials, from billboards to the company's bank checks. Of course, there was the man in the Ape suit, seen at live broadcasts and roaming around the studio.
Aside from the highly recognizable Ape logo, WAPE used its studio building as a marketing tool also. A modern (at the time) studio, built with a contemporary design out of white limestone with a swimming pool in front, it was like something out of a James Bond film. Owners, the Brennan brothers, had a hidden private apartment with a light wall designed to flash with the tune being broadcast at the time. Very hip.
This is postcard with an image of the station. Though I was too young to attend, the station hosted pool parties on the weekends with people traveling from all over the Southeast to have fun and join in live broadcasts.